Everything you need to know about Lady Gaga's makeup line Haus Laboratories.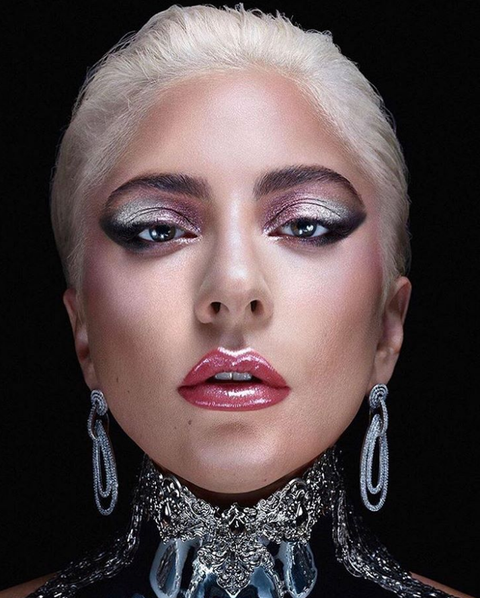 INSTAGRAM
Update 7/9/2019: Details of Lady Gaga's long-awaited makeup line are finally here. Called Haus Laboratories (not Haus Beauty!), the line of lip glosses, lip colors, and all-over colors will be sold on Amazon.com in September and will be available for pre-order starting on Amazon Prime Day 7/15. There will be six shades in total, with glosses priced at $16 each and kits of all three products priced at $49, according to Business of Fashion.
The superstar and actress debuted a brand video on her social media channels today. "The last thing the world needs is another beauty brand. But that's too bad," she says in the clip. "They say beauty is in the eye of the beholder. But at Haus Laboratories, we say beauty is how you see yourself." The video shows various models in bold, glittery, and metallic makeup looks—much like the ones the superstar wears when she's performing.
Gaga wrote a lengthy open letter on her Instagram about her experience with makeup and personal beauty:
When I was young, I never felt beautiful. And as I struggled to find a sense of both inner and outer beauty, I discovered the power of makeup.

I remember watching my mother put her makeup on every morning, basking in the glow of her power to put on her bravest face as the hard working woman she was. I then began to experiment with makeup as a way to make my dreams of being as strong as my mother become true.

It was then that I invented Lady Gaga. I found the superhero within me by looking in the mirror and seeing who I wanted to be.

Sometimes beauty doesn't come naturally from within. But I'm so grateful that makeup inspired a bravery in me I didn't know I had.
I've come to accept that I discovered my beauty by having the ability to invent myself and transform. They said I was just weird, but really, I was just Born This Way.

Love,
Lady Gaga
Gaga spoke with Business of Fashion exclusively ahead of the pre-order launch. According to the publication, Haus Laboratories "draws inspiration from Gaga's early days as an aspiring singer in lower Manhattan, applying drugstore makeup to form what would become her signature look."
When the collection officially goes on sale in September, fans will be able to buy the lip gloss, lip liner, and all-over color pigments exclusively on Amazon. This marks the first time a major beauty brand has launched on the goliath e-commerce platform. That means you'll be able to choose one-day or two-day Prime shipping and get your hands on the products ASAP. "This [deal with Amazon] was so wonderful because this was like, 'Let's make a deal, let's make a deal to change the world with their beauty," she told BoF.
The brand is about creativity, self-love, and individuality above all. "Look, you might want to look like the DuPont twins. You might want to look like Erin or Kitty… Or you might want to, oh my gosh, look like you," Gaga told BoF. "And that's the nut that I really want to crack… I'm sure as hell not going to put out a beauty brand that is going to drive insecurity and fear into people. This is about liberation."
Haus Laboratories will be available for pre-order, with kits priced at $49, on 7/15 only on Amazon.com. 
Another day, another celebrity makeup line—but this one is long overdue. Some Internet sleuths have discovered a trademark filed by Lady Gaga's company Ate My Heart Inc. back in February for something called Haus Beauty. The trademark covers everything from cosmetics to perfumes, colognes, and even skincare. That means a Lady Gaga makeup line is (probably) in the works.
A trademark application, however, doesn't always mean it's a sure thing. But a few years back, fans discovered a trademark for a little something called Fenty Beauty by Rihanna's company. We all know how that turned out. This could be the same case for Gaga's makeup line Haus Beauty.
Gaga isn't new to the beauty world. Back in 2012, she launched her first and only perfume called Fame. She also partnered with MAC Cosmetics for their Viva Glam lipstick campaigns in 2009 and 2011. For all her recent events and performances, Gaga has tapped makeup artist Sarah Tanno, who is the Global Artistry Ambassador for Marc Jacobs Beauty.
It does appear that Gaga has been dropping subtle hints about a beauty line on her Instagram. The last few posts have all prominently featured red and pink lipstick. She captioned one photo: "Have a beautiful happy day. I'll be making music n' stuff." Could the stuff she writes of be makeup? Maybe we're reading too much into this. It just really needs to happen.
The fact that she didn't credit her makeup artist in any of the photos leads us to believe she could be giving us a sneak preview of her new Haus Beauty makeup line.
No word yet on when Haus Beauty can be expected to launch, but we'll update this post when we know more. JENNA ROSENSTEIN Beauty Director Jenna Rosenstein is the Beauty Director at BAZAAR.com.