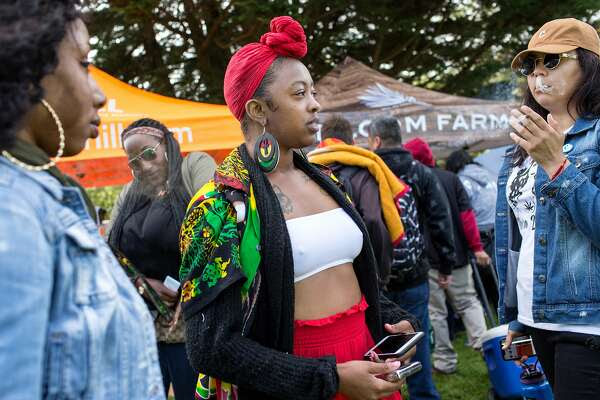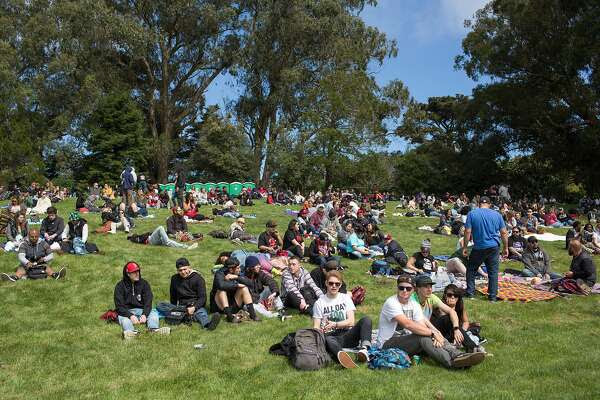 Smokers passed cone-shaped joints, cradled glass pipes of all sizes and worked to keep blazing blunts alive amid strong winds on the grassy fields of Golden Gate Park as part of the annual 420 celebration at Hippie Hill.
The San Francisco tradition has been an unofficial celebration of all things weed since the 1970s, but this is the second year since California legalized recreational cannabis use for adults in 2018.
Thousands packed Robin Williams Meadow, many sprawled out on multicolored serapes and quilts, where friends and strangers shared hits from thick blunts and rapped along to '90s hip-hop blaring from the Wing Stop food truck on the grass.
Smoke clouds dissipated just as quickly as bundled-up participants exhaled amid the heavy, cold winds. A staccato round of coughing fits could be heard in the crowd every now and again. People bobbed their heads and some rose to their feet to dance to the DJ's eclectic mix of music by Tupac Shakur, Santana, E-40, Rick James and YG.
Brandon Brooks, 25, balanced a joint between his lips while inviting people to pet his 6-foot-long Colombian red-tailed boa, which was wrapped around his neck.
"I'm just here to socialize her and get stoned like everybody else," he said with a laugh, referring to the 6-year-old boa, Baby Girl. "It's Baby Girl's first time at the hill, but I've been coming here since I was 13 years old."
Sara Crispin, 24, of Hayward carried an instant camera to capture memories of people willing to hold the boa. She said that 420 is a San Francisco tradition that Bay Area locals have to "keep up" amid the changing demographics of the region.
"But this is one the benefits of being in a very forward-thinking city and state," she said.
Sisters Erica Howard, 29, and Cassandra Zamora, 27, both from Fresno, laid out a serape on one of the few free patches of grass near the DJ stage for the festivities.
The pair joined Zamora's husband and another friend on a nearly three-hour drive from Central California to San Francisco to experience the Bay Area tradition.
Howard pulled out a clear baggie filled with baked goods that resembled Rice Krispie treats before pulling a cover over her eyes to shield them from the sun peeking through the clouds.
"I bought some edibles from one of the many vendors located on that sidewalk over there," Howard said, gesturing to a line of men and women with backpacks filled with a variety of homemade baked goods, pre-rolled joints, blunts and cannabis-infused lollipops. "They're tasty and the only kind of marijuana I consume."
Her sister, Zamora, half-jokingly said she should have brought a medical mask so she wouldn't have to inhale the clouds of smoke surrounding her.
"I just wanted to go for the cultural experience, to see what the hype was about," Zamora said. "I haven't smoked marijuana since high school, so I'm not participating, but I feel a little bit already just by people smoking around me."
The ad hoc holiday comes a month after San Francisco's Board of Supervisors passed an ordinance to create a permit allowing people to sell and consume cannabis legally at public events, such as 420 at Hippie Hill, Outside Lands and How Weird Street Faire, among others.
The 420 event was not eligible for a temporary cannabis license, largely because of time constraints, said Tom Temprano, an aide to Supervisor Rafael Mandelman. Organizers would have had to acquire a temporary permit 60 days before the event and have a cannabis organizing license issued by the state.
The 420 fest will be eligible next year, he said.
Lauren Hernández is a San Francisco Chronicle staff writer. Email: Lauren.Hernandez@sfchronicle.com Twitter: @LaurenPorFavor