Local pot shops offering 420 specials
By Justin Criado, Editor
Apr 18, 2019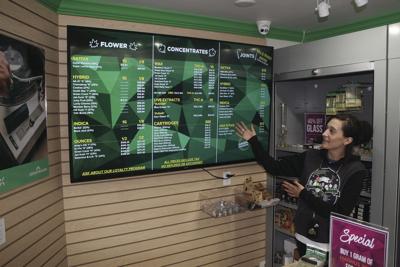 It is unclear whether or not John Denver was referring to smoking pot when he wrote "Rocky Mountain High" in 1972, but since then, the official state song has taken on new meaning, especially after Colorado became the first state in the Union to legalize marijuana in 2012. But the Centennial State has always enjoyed its herb. One of the biggest annual 420 smokeouts in the country was held at the University of Colorado-Boulder. It's mellowed since legalization, but the fact remains, Coloradoans like to catch a buzz.
Here in Telluride, which is just over 2 square miles in size, there are five pot shops. The Daily Planet visited each one of them in an effort to compile a comprehensive 420 guide for locals and visitors alike who wish to celebrate Saturday's holiday with their favorite flower. The shops are also offering a lot of offseason specials. Imbibers are encouraged to peruse the shops to find out more.
Green Dragon has the most 420 specials, including $9.99 eighths; there's a half-ounce limit per customer.
"I think that's our best 420 special," assistant manager Marlee Putney said.
Other 420 specials include $15.99 for a five-pack of joints; 25 percent off all Mary's Medicinal, Canyon, Blue Kudu and Coda products, and Green Dragon apparel; two for $28 Dixie gummies; $39.99 for Pyramid gold pods; buy two Magnus 500 mg cartridges and get a battery for a penny; $19.99 for a gram of wax; and $14.20 for a Pax pod. There's also a 30-percent flower discount for locals; 10 percent off everything else, except hard goods and apparel.
Delilah's is doing 30 percent off all orders for locals on 420; 20 percent off for everyone else, according to employee John Cline. There are also several offseason specials, including discounted ounces, Pax pods, edibles and topicals.
Over at Telluride Bud Company, manager Kristy Chester was going through store stock Thursday morning and deciding on 420 specials. The shop will offer $15 concentrates.
"I'm going through my inventory now and will have a big basket of edibles and whatnot, some for up to 50 percent off," she said.
For offseason, Bud Company is offering $100 ounces on select strains.
"People have been responding really well to it so it's something I would like to keep going," Chester said.
Bud Company always offers a $5 gram special for locals, too.
Telluride Green Room, which is in the process of expanding its operations with a second shop in Naturita, has a 20 percent discount on all orders for 420. Budtender Casey Finnestead explained they may also have a joint special, but nothing was official as of press time Thursday afternoon. He encouraged people to stop by, even if they just want to hang out and check out the shop fish tank.
"I think it will be great if people come by and chat with the fish a while," he said.
Green Room's offseason locals special is 10 percent off all orders.
At Alpine Wellness, manager Ian Murphy explained customers will receive a free joint on 420 with every purchase. The shop will be selling Biochem shatter for $20 Saturday, too. Members may also be in store for some perks, Murphy added.
Alpine's offseason locals specials are 30-40 percent off select strains and $20 edibles.
While 420 is an international holiday, it's still offseason in Telluride, which means the population is a fraction of what it is during the winter months. Shops aren't necessarily expecting hordes of high hippies banging down the doors come Saturday. Most managers think it'll be a pretty chill, business-as-usual day.
"Everyone's gone," Cline said. "I keep telling people that I spent 420 last year in here alone watching Netflix and rolling joints. It wasn't a super crazy day. I'm hoping this year there's a bump."
Putney shared a similar sentiment.
"Everyone's in Florida or other sunny places visiting family or vacationing," she said.
Still, she added, people need their cannabis.